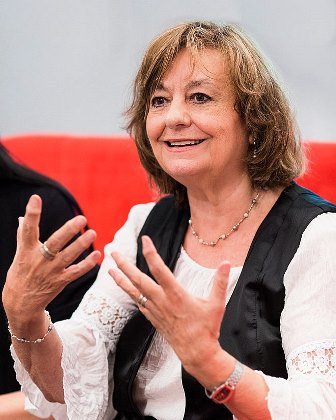 Оригинал материала находится по адресу:
Опубликовано: Encyclopedia of World.
Biography on Ana Blandiana
The Romanian Ana Blandiana (born Otilia-Valeria Coman, 1942) is known internationally as one of her nation's most outstanding poets. Deeply spiritual in her sensibility and patriotic in her loyalties, she wrote verse of traditional beauty and elegance, but also was a prominent dissident and later respected public voice for freedom and democratic change.
To Ana Blandiana, being a poet was "sacred," "a state of grace," "destiny". Thus, "You cannot say of yourself, 'I am a poet', as you cannot say about yourself, within the limits of modesty, 'I am a genius.'" It is, however, also an "obligation," a necessity like living that "rips the writer away from mankind" in order to be its attentive observer and special voice. Her poem about writing, "The Gift," begins, "My gift is tragic, like some ancient punishment …./ All I touch turns into words…."
Ana Blandiana was born Otilia-Valeria Coman on March 25, 1942, in Timisoara, a city in western Romania that once was a part of the Austro-Hungarian empire. Of Transylvanian peasant stock, she was the first daughter of a high school teacher. After the coming of communism, he could no longer teach and became an orthodox priest in nearby Oradea. In 1959 he was arrested and sentenced to five years of forced labor. Her father's influence and example can be seen not only in her intrinsically religious conception of existence, but also in her dissidence and independence of thought. Blandiana attended schools in Oradea and then went to the University of Cluj-Napoca from 1963 to 1967. After graduation she worked in Bucharest as a literary magazine editor and fine arts librarian. After a decade she was able to attend to writing full-time, not only poetry and prose fiction but also regular columns for cultural newspapers. From 1974 to 1991 she wrote for the major weekly Literary Romania, with a number of gaps during times the Nicolae Ceausescu government forbade the publication of her work. Blandiana married essayist Romulus Rusan in 1960. They had no children.
Ana Blandiana published her first poetry at the age of 17 in the year her father was imprisoned. Despite adopting a pen name, her work was banned at once because of her father. In 1964, the start of a period of liberalization of censorship and relative literary freedom in Romania, her debut volume finally came out. This work was a celebration, in exultant language, of ingenuous youthful sensuousness and idyllic communion with nature. But after Blandiana's first book was published, her father died in an accident. Although she remained a major voice in the Romanian poetic renaissance of the 1960s and one of its most eminent and productive poets after that, the accident separated her from what she termed her generation's "euphoria." Her writing that followed–she produced a total of 17 volumes of poetry (three are selected anthologies, three others for young children), six essay collections, and three books of fantastic prose fiction, including a novel–was more deeply serious. Still valuing human happiness, conjoined now with a nostalgia for a kind of original spiritual purity, her work always reflected the limits, disasters, sordidness, and unfulfillment of life. Her themes centered upon change and mortality–accepted without horror.
In Blandiana's imagery, life can be intoxicating, warm, a powerful but fleeting joy, vital, and sensual. Her loving couples often bask in drowsy summer dreaminess. Yet the eternal, frequently signified by cold or stark whiteness, is likewise a desired realm of the unstained and uncorrupted. The human condition of pain, loss, shame, and decay is transcended, just as in a recurrent motif churches (tangible, enduring edifices of the sacred mediating between the human and God) miraculously fly through the air like flocks of birds. An early poem deals directly with the dichotomy of appealing alternatives. It begins, "Purity, I know, cannot bear fruit," and proceeds to celebrate the "dance" of "microbes … all around" in air and the earthly realm of fruitfulness. But then it sets up a contrast: "Only snow is immaculate white,/The warm earth is impure at the root." For the poet whose words can achieve a kind of earthly immortality, the choice is more extreme: between "silence and sin," or synonymously, "Voiceless dream or resounding fame." Blandiana's lofty sense of the poet's duty thus paradoxically involves triumph in the arena of the tainted and insufficient. But for the human being, the appeal in life of the eternal, religious realm is likewise a direct yearning for authenticity, an inward sense of salvation that is a higher joy.
Throughout her career, Blandiana's poems remained graceful, dignified, musical, and evocative, making frequent use of traditional forms and imagery. Her poetry has been called "astonishing" and "daring" precisely because of its intent to be "beautiful" in an older, pre-Modernist, early-Romantic sense. Her poems often focus on her own human vulnerability, but she was never confessional in the sense of baring private, intimate experience or neuroses. Her representative humanity is from a woman's perspective, and her rich sensibility is bodied forth through visionary lyrical strategies–the poet's enduring role of expressing inward revelation, the imagination's fresh triumph in understanding the world emotionally and morally.
This latter imperative in fact grew in urgency, and her themes took on public dimensions as warnings and dissident, ironic parables as Romania's domestic climate became increasingly repressive in the 1980s. Her religious assumptions became an ethical obligation to bear witness to her society's conditions. Twice during the decade her work was totally banned: once for a group of outspoken protest poems, one of which attacked her fellow citizens for being "compliant" and "vegetal," the second time because of a poetic children's fable about a strutting, egotistical tomcat who represented a sly satire of the nation's dictator (Ceausescu). Despite her fundamental faith, many late works before the downfall of the communist government turned somber and almost despairing. In "The Cold Melt" history is "in slow motion," "Only the progress of rust/To the heart of iron," and in "Portrait," "A sun of rats/In a firmament of asphalt" becomes "An Apollo of filth, the future's/Fur-covered star for some other/Century…." Much later, in 1997, in a very terse poem, "So Cold", she recalled how her emotions were avenged at witnessing ferocious dogs, "…mad with fear."
Blandiana's stature in Romania in the early 1990s was that of both a greatly respected writer and a widely known voice of decency and freedom, honored for her defiance and resistance. Fundamentally nonpolitical, she nonetheless came to play a number of prominent roles during and after the revolution. Briefly a member of the provisional government, from 1991 to 1993 she was president of a nonpartisan coalition of opposition interests. She was also president of the Romanian PEN Center, which she helped organize after 1989. Her works won numerous prizes at home as well as the Herder Prize in Austria and international fellowships to the United States (the Iowa International Writing Program) and to Berlin (from the German Academy of the Arts). Over 20 books of her works have been published in European languages, including English.